CMS BENCH SYSTEMS
Heavy gauge legs are supplied with a galvanized finish. Tapered roll bars require less effort to move the benches. Rollformed components maximize structural integrity.Thousands of benches are in service throughout the world.
Benches are supplied pre-punched to reduce installation labor. Anti-tip brackets allow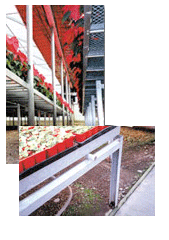 movement of cantilevered benches without redistributing weight. Multiple widths are available.
Optional Components:
Hot dipped galvanized bench tops.
Coated or no-coated wire mesh bench tops.
Polyethylene bench tops.
Ebb & Flow irrigation.
Bottom heat systems.
Hand cranks.
PDF DOWNLOAD: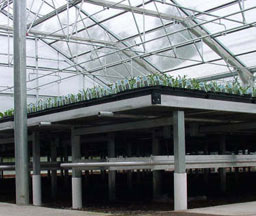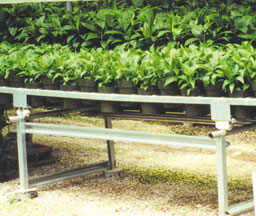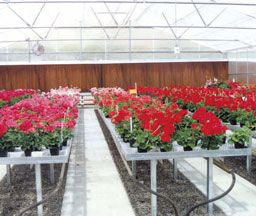 BENCH MASTERS
Growers from Australia to Maine have discovered the plant-friendly nature of plastic benching systems. There are no metal parts to rust, no wooden parts to rot, and no place for insects or fungus to find a home. Molded with the strongest commercially available UV resistance, these benches will serve your needs for years to come.
The solid-top versions of the original bench systems meet a more diverse merchandising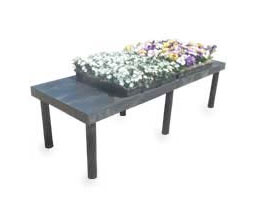 need. Use them instead of grid-top for cross merchandising to maintain a consistent look and feel in your garden center. They also make ideal utility tables in growing environments and have a more finished look for use in an indoor setting.
PDF DOWNLOAD: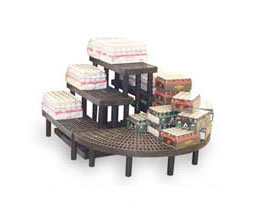 Benchmaster Pyramid Systems will help you build the perfect aisle environment for virtually any product. Run sections of pyramid displays down unused aisles just like you might use gondolas or pallet racking. At a height of just 36 inches and a reach to center of a mere 30 inches, these pyramids are built with ergonomic shopping in mind.
This pyramid has a massive 36-inch-wide top shelf that can handle your biggest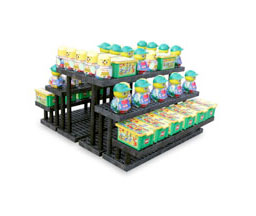 merchandising challenges. You'll find it amazingly useful for cross promoting your bulkiest products without putting them out of your customers' reach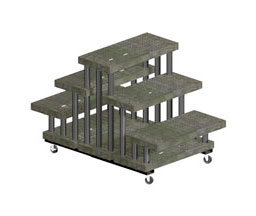 When frequent resets are your thing, pick one of the pyramid carts. Starting with the multifunctional Five-step Pyramid and adding the power of mobility. Put your entire aisle on wheels and increase the efficiency and speed of changes to your plan-o-gram, merchandise resets and floor cleaning.
PDF DOWNLOAD: